Conveniently located near the Sydney CBD
About Banksmeadow
Recycling
Banksmeadow Recycling is an independent recycling facility located at 38 McPherson Street, Banksmeadow.
Located just 7km from Sydney's CBD, the Banksmeadow Recycling site has been in operation for more than 20 years and is the premier location to tip dry waste originating from the CBD, eastern-suburbs, inner-west, lower-north, southern suburbs and surrounds.
Ease of road access, fast turnaround, 24-hour operations and excellent service get you back on the road quickly and ready for your next job.
Banksmeadow Recycling is owned by funds managed by CPE Capital (formerly CHAMP Private Equity).
We accept waste from the following areas:
Demolition and building companies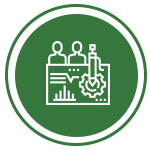 Major and government projects
Waste collection companies
Waste we accept
Building and demolition waste
Bricks, concrete and tile
Garden waste
Wood waste
Asphalt waste
Soils (that meet site licencing guidelines)
Waste we don't accept
Asbestos
Food waste
Tyres
Liquid waste
Hazardous materials